Observable Lightning Talks June 2023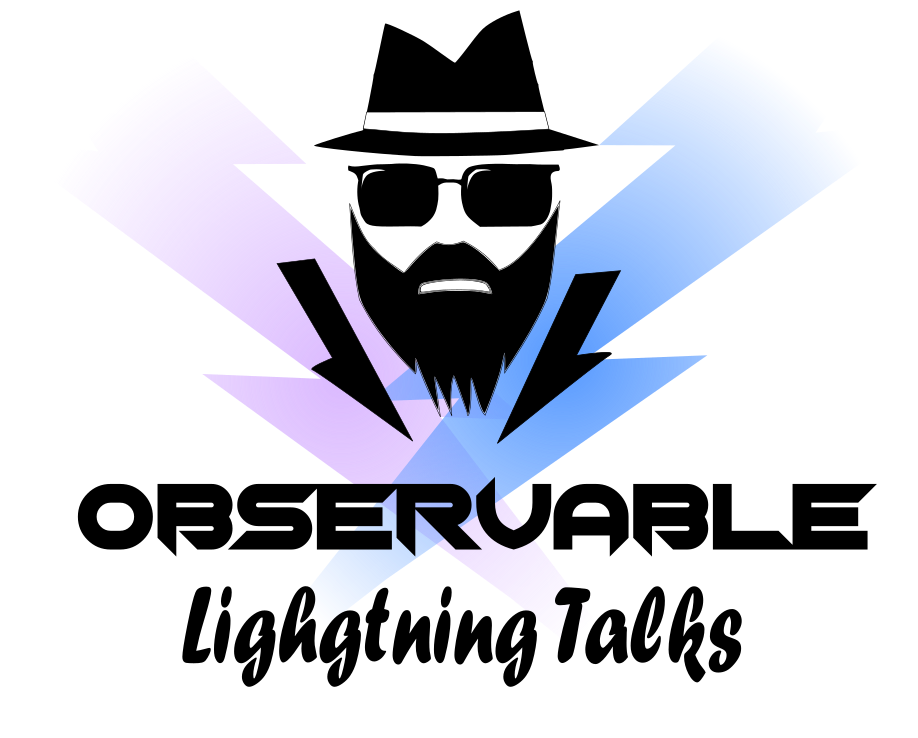 After the Second Edition of the Observable Lightning Talks, we are back with new speakers. Come and join us to hear tips and tricks from Industry Experts.
Observable lighting talks open the stage to three speakers sharing their experiences, recommendations, best practices, and more.
And if you have any questions for our speakers, you can ask them during the live panel discussion.
Come and join us on the 21st of June for the Third edition of Observable Lighting Talks.
Where?
The event will be broadcast live on Linkedin, Twitch, Facebook, and of course Youtube.
Observability and SRE practices rely on many frameworks available on the market. However, since technology evolves at a very fast pace, it can be difficult to keep track of the latest solutions and technologies and implement all the best practices.
To help you improve your practices and understand the best of breed of the latest technology, IsitObservable is launching a new Show: Observable Lightning Talks.
The concept is simple: Thought leaders from the observability industry will help us along in our technology journey.
Each Observable Lighting Talk will host three speakers covering three different topics that we all love:
The 3rd edition of the Observable is planned on the 21st of June between 12PM - 1:30PM EST ( 6PM-7:30PM CEST)
Here is the Agenda for the first edition :
The 3 presentations of the 3rd edition are :
Measuring Your Metrics Platforms
| | |
| --- | --- |
| | Alex Hidalgo, Principal Reliability Advocate at Nobl9 |
The number one feature of any service is its reliability, because if a service isn't doing what it's supposed to be doing it isn't doing much at all. In order to better understand the performance of our services we turn to any number of logs, time series, synthetics, RUM, traces, profiling, and more. But what about the services, pipelines, and interfaces that provide us and allow us to understand that telemetry in the first place? Can we meta-measure them in the same ways, and can an SLO-based approach to reliability help us?
Seeing Like A State Machine - Tips For Modeling Distributed Transactions
| | |
| --- | --- |
| | Austin Parker, Head of DevRel at LightStep |
OpenTelemetry tracing is an invaluable resource for observability practitioners, allowing them to model user-facing interactions with a distributed system. However, many system architectures, especially those involving step functions or highly asynchronous work, are difficult to accurately model or observe using span-based tracing. In this talk, you'll learn some tips on how to think about modeling, instrumenting, and analyzing these architecture patterns.
Cost and Performance Optimization with OpenTelemetry Sampling
| | |
| --- | --- |
| | Michael Haberman, CTO & Co-founder at Aspecto |
Sampling is a critical tool in observability systems since it allows us to manage the cost of generating, collecting, and analyzing telemetry data in our systems. It is a form of finding the balance between costs and performance, but the road to success is paved with obstacles.

In this session, you will learn why and how to collect the most relevant and insightful data rather than the most common. We will look into how Head and Tail sampling work and explore how to configure them to collect the most crucial data to handle scale in production. We will dive into sampling overuse use cases, learn how to avoid them, and manage cost.

You will leave this session with a better understanding of sampling, so you're ready to implement everything you've learned immediately.